Description
Private dog park where owners can exercise their dogs without worry.
Location
Schallock Center for Animals: W330 S1205 County Rd C, Delafield
Date & Time
October 8| Select Time Below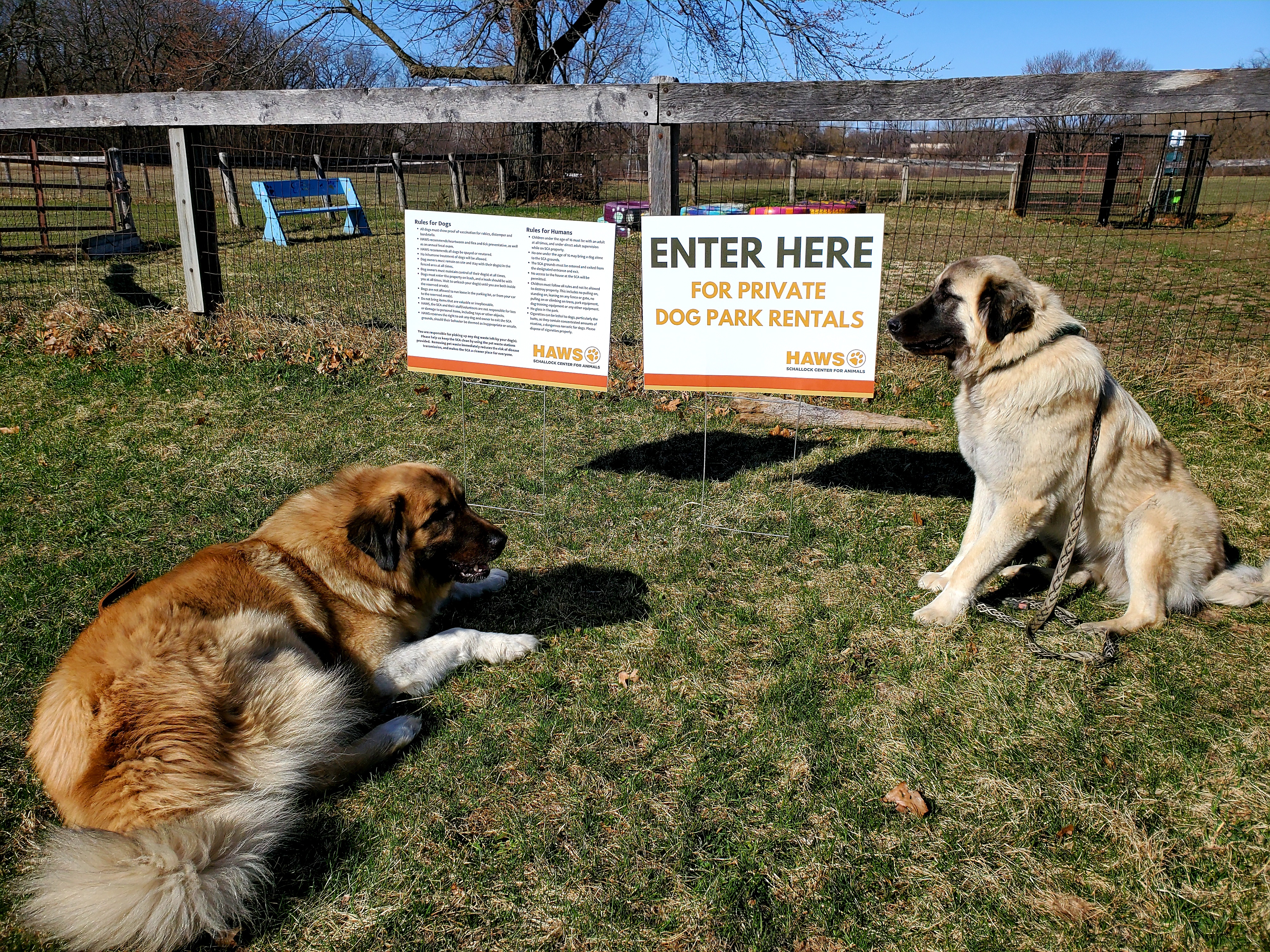 SCA Private Dog Park
Dogs have varying levels of social skills! The purpose of the SCA Dog Park is to provide a safe environment for your dog(s) to play. By booking a private timeslot, you can exercise your dog(s) without the worry of negative interactions with other dogs or owners. Likewise, you can also set up a doggy playdate with a friend or family member.
Dogs must have current rabies vaccination. Distemper and bordetella are optional but recommended. HAWS recommends heartworm, flea and tick preventative and annual fecal exams as well.

Dogs must remain on a 6-foot leash (no flexi leashes) until you are inside the fenced park.

Dog owners must remain in control of their dogs at all times.

Dogs are not allowed to run loose outside of the fenced in areas.

You are responsible for picking up any dog waste left by your dog(s). A waste station is mounted at the gated entrance. Removing pet waste immediately reduces the risk of disease transmission and creates a cleaner space for everyone to enjoy.

No human garbage inside the park (especially glass!).

Please arrive on time and leave promptly at the end of your rental to ensure a smooth transition between timeslots.
NOTE: During your rental time, you will have a private experience within the space you have rented. However, there are multiple spaces for renting during the same period. This property has resident animals, education camps, and programs which may be a trigger or distraction to some dogs. Please rent and use the property at your discretion keeping your dog's reactivity and physical ability in mind.
SCA Private Dog Park Terms & Conditions
Please read and review HAWS SCA Private Dog Park Terms & Conditions before registering your dog (link above). If you understand and agree to all the terms, check the boxes at the end of the form and proceed with check out. By submitting payment, you agree to the following release authorization:
As a participant of the HAWS Schallock Center for Animals Private Dog Park, I (we) agree to release the Humane Animal Welfare Society (HAWS), its staff and volunteers, and any other involved individual(s) from any and all liability of any nature, specifically, but not limited to injury or damage resulting from the action of any dog, including my own dog, and expressly assume the risk of damage or injury while on the grounds. I also assume full responsibility for my dog's behavior and actions and understand that my dog must be under control at all times.